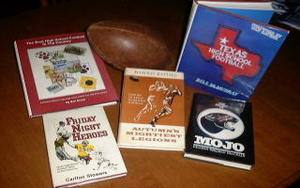 The Texas Sports Hall of Fame pays special attention to high school sports and Jay Black has compiled a bibliography of almost 50 titles on football.
Curator Jay Black's introduction reads:
"The following is a list of books about Texas High School Football that are contained in the museum's collection. I hope that it proves useful as a starting point for research on the subject. I'm sure that there are plenty of team histories that have been written that I am not aware of. If you know of a book that should be included in this list please contact me at
jay@tshof.org
."
The first few titles are
Ball, Jim. Thundering Herd, Arlington High School Colts Football: The First Half-Century. Arlington : Jim Ball, 2002, 190pp., wraps.
Bedichek, Roy. Educational Competition: The Story of the University Interscholastic League. Austin : University of Texas , 1956, cloth.
Benne, Bart. The Best High School Football in the Country, A History of Plano , Texas , high school football from 1900 to the present. Dallas : Taylor Publishing Company, 1989, 220 pp. cloth.
Bissinger, H.G. Friday Night Lights, A Town, A Team, and a Dream. New York : Addison-Wesley, 1990, 355 pp., cloth.
Blount, R.E. "Peppy". Mamas Don't Let Your Babies Grow Up to Play Football. Austin : Eakin Press, 1985, 292 pp., cloth.
Breazeale, George. Tops in Texas , Records and Notes on UIL State Football Champions, 1920-1992. Austin : Martin Communications, 1993, wraps.
Bynum, Mike. King Football, Greatest Moments in Texas High School Football History. Epic Sports Classics, 2003, 672 pp., cloth.